I have written two adventure/thrillers in the Navigator Series, which tell of the seagoing adventures of Captain Joe Anderson.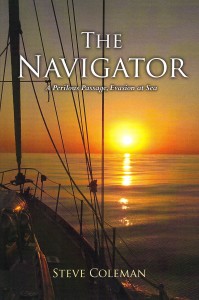 The Navigator: A Perilous Passage, Evasion at Sea, A Sailing Adventure of Smuggling, Pirates, Storms and Love
See five-star reviews of my sailing adventure on Amazon!
Buy the book from Amazon.com in paperback
Click here for The Navigator in Kindle version
If you like sailing for adventure, in this one of my sea stories, how does Captain Joe Anderson get home from the Bahamas after his boat has been stolen, leaving him broke and unemployed in the depths of the present recession? He signs on to sail to the States aboard a sixty-foot sailing sloop, MISSION. But once at sea, Joe discovers that wealthy, unscrupulous and philandering Alex Smith, the boat owner, is attempting to smuggle $2,000,000 cash back into the U.S. for use in an insider trading deal.  Also aboard are Smith's zany and volatile wife, Frances, who shoots first and never asks the questions; and a young widow, Mary, who expected a short little cruise but becomes captive aboard due to unexpected circumstances.  Departing from Man-O-War Cay in the Abaco, the four sailors encounter murderous weather and drug-running pirates who are after the money. What originally began as a pleasant voyage soon turns into a desperate race to outrun a hurricane and evade the gangsters. Uniting in their strife, Joe and Mary find new meaning in life even as violent men and seas threaten to take it away. Conspiracy, storms and romance are entwined in a complex plot. The 74,000 word novel offers a stirring adventure filled with moments of both humor and dire seriousness as the four characters alternately clash with one another and then pull together to survive.Click here to learn more about "The Navigator"
To Read On, please purchase a copy of "The Navigator" in either paperback or kindle ebook. Click here.
The Navigator II: Irish Revenge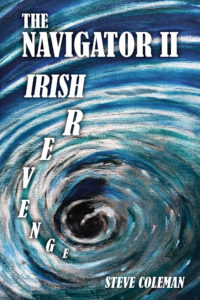 This novel continues the adventures of Joe Anderson, who is an undercover agent in Northern Ireland. Infiltrating the Irish Republican Army, he becomes entangled in a web of violence and intrigue, soon learning that religious and political division creates a terrible motive for revenge. He finds truth in the old Irish saying, "A man who would dig a grave for another best take care not to fall in it himself."
Click here to find the novel on Amazon
Click here to read excerpts from the novels.
I hope you enjoy my sea stories.