THOUSAND MILE SAIL
Newport, Rhode Island to Stuart, Florida
-Steve Coleman
David, Mollie and I set out from Hinkley Yard at Melville, RI on Tuesday, November 3, 2009 aboard Pete Sloss' Snowhawk.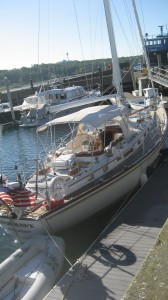 Our destination was to be Stuart, Florida, but our stops were totally unplanned, resulting from unanticipated events that, had we anticipated them, we might have chosen another time to go. David, about forty-five, a Master with a lifetime of boating and sailing experience, had surveyed the boat thoroughly before we got underway, probably knowing its systems almost as well as its owner does. Meticulous in his inspection, David repaired minor things that most delivery captains likely would ignore. For example, a worrisome twist of lines had set in the main sheet between the sheaves which no one had been successful in removing. David, however, with knowledge of how the sheaves swivel, was able to eliminate the twist and tighten down set screws to hold the line straight.
Our Tuesday morning departure from Hinkley began with topping off fuel and water.
There was a pleasant breeze from the east as we motor-sailed past Newport and out into Long Island Sound. On an easy reach we aimed for the east side of Block Island and passed its high cliffs in the afternoon. We took a southwest heading for the mouth of the Chesapeake and settled in to sail in a fairly calm Atlantic. We decided to take three-hour watches during night hours but left the daylight schedule loosely flexible. I volunteered for the midnight-to-three shift, which suits me best because I like to sleep from 2000 to midnight and then turn in again after the watch and sleep till morning.
By nightfall Tuesday, the wind had kicked up enough swells with a wind shift that confused the seas and made for a rough ride. Supper was a make-do affair, mine being an instant Noodles Alfredo dish cooked in the microwave. Afterwards, Mollie and I were on deck when a thunder storm developed off our starboard beam. Not expecting too much intensity, I paid little attention to a couple of lightning flashes and rumbles of thunder. Suddenly, we were hit by a massive gust. Being under full sail, the boat heeled over violently, and I spent several minutes fighting a vicious wind. Then, as fast as it had arrived, it left us, and we went on in rejoicing. My midwatch was largely uneventful with only one or two other boats to spot in the distance and a sea that settled a bit as time went on.
Throughout the day on Wednesday, the wind became calmer and calmer, requiring us to depend upon motor more than sail. David prepared each of us a spinach and chicken salad that would have made any sous-chef proud. Mollie explained that he had spent a number of years as crewmember and then captain on private yachts and was treating us to the kind of fare their owners expected. By afternoon the wind was very light and we were depending almost entirely on engine power to move us at 6.5 to 7 knots. The weather, however, was due for a change as a low pressure system was forecast to come offshore in the next 24 hours.
Around 1600 (4:00 PM), while approximately at the latitude of the southern end of New Jersey but fifty plus miles to seaward, David and I were discussing how far we could go before encountering bad weather. It seemed that Ocean City, Maryland would be easy to reach, but perhaps Rudee Inlet at Virginia Beach would be possible. While we were sitting in the cockpit, our discussion suddenly was interrupted by a warning whistle from the engine. Overheating, it immediately shut itself down with its temperature gauge pegged to the right, and the boat, its sails sagging, came nearly to a halt in the calm sea.
We went below and opened up the engine compartment. David began his litany of diagnostics, checking oil, coolant level, soundness of v-belts, etc. I climbed back into the cockpit to sail toward Cape May, the closest harbor, now about fifty miles away. While David and Mollie continued dissecting the cooling system, I made the best of the light air, sailing on the flat sea, being pleased to squeeze three or so knots of speed.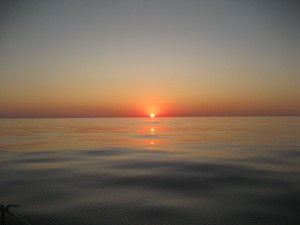 David checked all the hoses, took apart the heat exchanger and made all efforts to find any obstruction or leakage. He refilled the coolant bottle and bled air out of the system, all with no success. Two minutes after starting the engine, the temperature exceeded normal running level and required shutdown. During the night, limping along under full sail with no wind, we sometimes moved at no more than half a knot. We called SeaTow to meet us at dawn. At first light the tender had arrived to tow us in the last eleven miles. Happily, the annual premium had been paid to SeaTow, so that the $1100.00 charge was avoided.
Arriving at Utsch's Marina, we opened the engine up again for further inspection. As David anticipated, when he removed the water pump, he found its impeller shaft broken. He called his mechanic friend, in North Carolina, who was able to locate the part from Westerbeke, and have it sent by express delivery. That evening we walked the two hundred yards to Lobster House, where we pigged out on seafood. Even I had to request a take-home box for a remaining lobster claw. Back aboard that night, we heard high winds howling through the rigging and were very happy that this frontal passage was occurring during our time in port rather than at sea.
The next morning, Friday, the winds continued to blow powerfully out of the northwest. We did laundry, repaired some small things, replaced a bulb in the starboard running light, and generally cleaned up. The roller-furler in the mast had decided not to operate in both directions, so David worked on that and, for reasons unknown, it began to behave correctly. (Later he decided that it had a relay which was sticking, but would operate after turning the power off and then on again.)
By about ten the new water pump arrived. David attacked the engine, and by two in the afternoon, he had it running perfectly. Still the wind was too high to allow us a safe approach to the fuel dock, so we waited until four to maneuver over there. By sunset we were fueled and off to sea with a favorable wind, crossing the mouth of Delaware Bay and heading south.
Saturday the ocean was as smooth as a lake. We motored comfortably down the coast of Delaware on a rhumb line course toward Cape Hatteras that took us farther and farther offshore.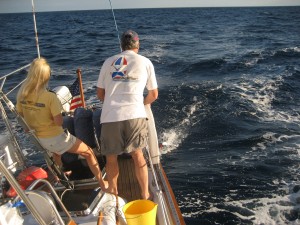 On Sunday we passed the mouth of Chesapeake Bay too far east to see Cape Henry Light or any of the familiar coastline of Virginia Beach. I had the mid-watch, as usual, and steered us around Cape Hatteras in reasonably calm seas, even though the southeast wind was too much on the bow for good sailing. As we rounded Hatteras and turned west toward Cape Lookout, the wind favored our course and provided sailing on a reach. By sailing west-southwest, we were avoiding the Gulf Stream, heading more or less toward Charleston. However, due to so much motor-sailing, the result of unfavorable or nonexistent winds, we were getting very low on fuel. Neither Beaufort nor Wilmington were acceptable choices for refueling because Cape Lookout shoals and Frying Pan Shoals, respectively, require you detour around them before turning north toward land. So we pushed on west instead.
Monday afternoon found us forty miles offshore of Charleston with evermore deteriorating weather ahead of us. Ducking into Charleston would have required extra hours of travel both in and out, however, so we decided to push on to Fernandina and Amelia Island, located near the Georgia-Florida border. While that turned out to be a good decision, it was not without consequences.
At about sunset, a cluster of storm cells developed first to the east, then to the west, and then all around us. Furling the jib and starting the engine, we began being pelted with rain and knocked by hard winds. With the lights of Charleston and then of Savannah lighting the sky to the west, we motored on with the reefed mainsail, held by a preventer, and the genoa partially furled. In the darkness seas began to build, maybe to as much as seven feet, coming at us from the port side, lifting us up and sending us hydroplaning down waves in the dark, thrusting us sometimes up to nine or ten knots. The wind, sometimes on the beam and sometimes on the bow, required us to run the engine occasionally, using up what precious little fuel we had left.
By morning we were sixty miles or so from Fernandina with seas slowly calming and the wind shifting to the east. It seemed we would have an easy ride into port until storm cells again began to show up on the GPS display. At the helm around 1100, I could see a cloud coming our way, its image showing up on the GPS, displayed as green at the edges, yellow inside the green and then a red center in the middle. It was headed our way. We took in the jib and held on. Sure enough, pounding rain and gusts over forty knots hit us hard. I fought with the wheel, trying to keep us fairly on course, while taking the gusts by heading up into them when they were strongest. The battle raged for half an hour. There was an hour's break and then another onslaught. By 1300 or so, we had gotten past the storms. Shifty and gusty as it was, the wind came at us from abeam with a steady enough direction to allow sailing on in to Fernandina at about 6.5 knots. Our passage through the wave-pounded jetties was a bit rough but not a big issue.
We arrived in the late afternoon, fueled and then tied up at Fernandina Harbor Marina. Our plan was to spend the night there and get underway the next afternoon. There's a restaurant on the pier which was pretty good, so we enjoyed supper while the rains poured outside. Winds were still high during the night but seemed to be calming down by the next morning. David went up the mast to replace the bow light and then went to the top, inspecting all the stays, fittings, etc. He then made Mollie ride the boatswain's chair up, which she did with a mixture of trepidation and sportiness.
By about noon, it appeared that the weather was improving enough to get underway in the afternoon. Around two, however, the major low pressure center from the remnants of Hurricane Ida approached.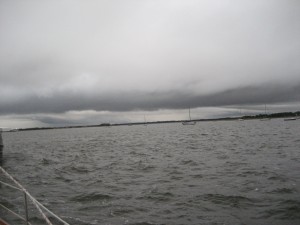 Dark cumulous to the west barreled over us, followed by an ominous curtain wall of clouds, and the wind began to gust at over thirty knots. Conditions were ripe for a tornado, which would come in the form of a waterspout if it crossed the bay, but we were spared such a thing. Being on the western face of the dock, the boat was held fast, the fenders squashed flat but doing their job. After dark we found the Espagna Restaurant and enjoyed some very good Spanish-styled seafood.
All that night and most of Thursday morning, the winds howled, continuing to hold us fast to the pier. (Without powerful engines, bow thrusters or tugs, you simply cannot move a fifty-ton vessel off the dock with a strong wind blowing on its broadside.) Around three in the afternoon, conditions had improved enough to get underway. We headed out to sea and were relieved to find a following breeze, with seas no more than four feet. Those conditions remained approximately the same all night and into the morning. Passage around Cape Canaveral by midmorning was fairly rough due to the south-traveling waves colliding with the northbound Gulf Stream over the thirty-foot-deep shoals. But after rounding the cape, we sailed closer to shore, out of the current, in slightly calmer waters.
An hour after sunset, we entered the jetties at Fort Pierce and made our way to the first marina. Unfortunately, it was completely filled (as best we could tell in the darkness), so we groped our way down the unlighted Intracoastal Waterway to a second marina with a restaurant on the pier. Several friendly people seated outside jumped up to handle our mooring lines, and it was not long until we too were sitting near them in the outdoor restaurant, complete with band, bar and loud people. We turned in early and slept well that night.
At 0330 the next morning, we were up having coffee, bagels and lox. By 0400 we again were picking our way through the darkness, finding the channel between the unlighted markers. Once out of the pass and back into the Atlantic, I took the watch for the final twenty miles to Stuart. It was one of the most pleasant legs of the whole trip because the following winds and seas kept the sloop moving comfortably at eight to nine knots. While steering through the narrow pass at Stuart, I saw a manta ray jump clear out of the water, plunge back in and then jump again, spurred on perhaps by the great spray from waves breaking on the rock jetty.
Our reason for stopping in Fort Pierce and getting up early, by the way, was so that we could arrive at the shallow St. Lucie Inlet at high tide. (In a boat with a six-foot-six-inch draft, it's not unusual to bump the sandy bottom there. On a different trip, we had to be towed off a sandbar that had drifted right into the middle of the channel between two buoys!) Making our way through the inlet, we stopped to fill the diesel tanks so they would be full for the next trip. Then we eased on down Manatee Pocket to the Hinkley Yard, our depth gauge reading only a foot beneath the keel. Our journey over, we moored, and cleaned up the boat. I was the first to leave, bidding good bye to David and Mollie, then heading out about noon for the West Palm Beach Airport and a ride home on Southwest. While I thoroughly had enjoyed the trip, I was glad the thousand miles or more of sailing had come to an end. It might have taken me a week or two before I was interested in heading out on another such trek.